As Disney announces it will move 2000 jobs from LA to Orlando, will there be changes ahead for the themed entertainment ecosystem?
by Bart Dohmen, TDAC International
Previously published on Blooloop
It was recently announced that The Walt Disney Company is planning to build a new campus in central Florida, relocating around 2,000 positions from Los Angeles. In a comment on LinkedIn, I responded to the news, saying that I was wondering how this would affect the attraction design industry in LA in the future.
My comment was picked up by the LinkedIn news team. It generated many comments and profile views, making me aware I wasn't the only one wondering this. It also made me realize that a shift in the attraction design industry may have already started, many years ago.
When I started in the attraction business over 25 years ago, all the serious design firms were based in the US (and one in Canada). The credo in those days was: buy technology in Europe and for design services, go to US-based companies. There were only a few design companies anyway, serving a small market.
Markets like the Middle East, Asia, etc. were not yet open to themed entertainment. Meanwhile, in Europe, storytelling and themed attractions were new, with some exceptions like Efteling, which designed everything in-house. Back then, for a family outing, you could basically choose between an amusement park, a zoo or a museum. Real experiences were rare in Europe.
The themed entertainment ecosystem evolves
However, with the arrival of Disney in Europe, the attraction landscape began to change.
At TILE, a conference that was very popular at the time, Disney legends like Tony Baxter, Joe Rohde and Tom Morris and other American designers like Bob Rogers, Craig Hanna and Jack Rouse were passionately advocating storytelling and the creation of themed environments. And with results; slowly some museums turned into experiences and the first branded experiences opened their doors.
The move to more thematic and narrative attractions slowly changed the landscape in Europe. Scenic companies, such as P&P, Farmer and Jora Vision were founded and started creating their business. Interactive companies like DaPinxi and Alterface took off and even some special effect companies opened their doors.
Then, some designers from the US opened their offices in Europe. For instance, names like BRC, ITEC and Landmark Entertainment making the move. This was followed by the arrival of the Themed Entertainment Association to the region. So, the first themed entertainment ecosystem outside Los Angeles was born.
Following the US model
The European-based scenic companies were eager to learn. And with every project they were executing for the US design companies, they learned more. European employees and freelancers, initially hired by the US designers, then left these companies again and started to work for European based companies. Storytelling attractions and highly themed attractions were not only the specialism of overseas companies anymore.
Now, a few decades later, Europe has its own strong themed entertainment ecosystem. It has several respectable names in experience design, such as Jora Vision, P&P, Tinker and Chris Lange – Creative Studio Berlin. It also has highly skilled interactive and technologycompanies, like Kiss The Frog, Kraftwerk and DJW.
The availability of this ecosystem enabled the European design companies to expand and shrink per project by hiring freelancers and/or supporting companies. This allowed them to accept larger design and master planning jobs.
This is exactly as the typical LA film studios work, a model I discovered when I started working for a US-based design and production company more than 15 years ago. It's the perfect model method for our industry. As a studio, you only needed a core team. You get all the other specialists you needed from the circle of freelance and support companies, so you can take on larger projects as a company than you can handle with your own team.
Talent on tap
The ecosystem was immense and fantastic in LA. Many freelance specialists were available due to the large amount of themed entertainment work in LA. In addition, the two ultimate companies in the industry, Disney and Universal, trained them. This meant that the freelancers in LA had experience in the highest possible level of storytelling, technology and quality.
The design and production studio I used to work for was, with every project, expanding their team with highly trained freelancers.
Changes to come
With Universal having already moved to Florida, now Disney plans to leave LA too. The main training school for freelancers will be gone. So, an important part of the unique themed entertainment ecosystem in Los Angeles will drop away. This must have an effect on the position as Los Angeles being the themed entertainment capital in the world.
Will Orlando ever take over this role? Time will tell. But I am afraid that Orlando is missing a few essential items. Firstly, the film industry, which is closely connected to the themed entertainment industry, and secondly, the vibrant city life which many creatives love.
Plus, there is another important factor, which I touched on earlier. The themed entertainment design industry is not that focused around the US anymore. And it is getting even more fragmentized at the moment. After Europe, now China is the one building up its own themed entertainment ecosystem. This is a region that is still a big market for many US (and European) design companies.
Shifting to a more global market
Although the industry is changing, there still will be a large market for US design companies in our industry. But compared to when I started, the market has certainly made a shift from US-based to a global market. And this is not finished yet.
The move of WDI leaving LA will cause further erosion of the themed entertainment ecosystem. This will not help the many LA-based US attraction designers. However, on some fronts, they still have benefits above designers in the rest of the world. They have a way longer track-list, which is very important by designing attractions. In every project, you get more experience which you can and will use again in your next projects.
They also have the US culture, which provides a big benefit in storytelling attractions. Maybe 13 years working for a US company means I am biased. But I truly think that the US culture inherited storytelling way more.
For decades, every US child has taken drama classes through the country's school system. In Europe and other parts of the world, this is less common; it is either just starting or completely not part of the education system.
Understanding how to create and translate stories to broad audiences requires a perfect understanding of drama. For me, US-based companies are still far ahead of this, not only in LBE projects but also in movies. There is a reason why the most successful movies, in general, are still created in the US.
The future of the themed entertainment ecosystem
The shift in the design industry is an interesting fact. It opens a lot of opportunities and will create more diversity in design. But as a consultant, I recognize that for developers it didn't become easier. Instead of choosing between about five companies, the market now has hundreds of design companies, based on three continents.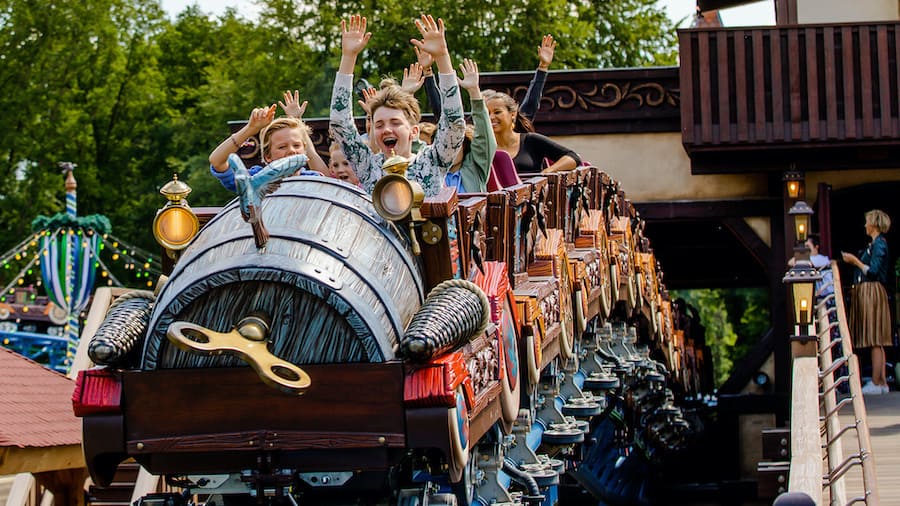 Without really understanding the ins and outs of this market and the (sometimes small) differences in skills between the designers it can be almost impossible to choose the right designer for your project.
For us at TDAC, it is an interesting process to guide developers through today's designers' landscape and advise them who might be the best fit for their specific project.
With Disney leaving LA, the designers' landscape for storytelling and themed attractions continues to shift. The next question is where the organisers will hold the THEA Awards gala in the future. Will it still be in Los Angeles? Or is it time to rotate to other themed entertainment ecosystems like Amsterdam, London or maybe even Beijing?