Shopping malls and retail centres are always looking for ways to increase footfall, and adding attractions is one common method. But operators also need to think about ways that they can use these to make a genuine connection with their guests.
by Bart Dohmen, TDAC International
Previously published on Blooloop
It will not surprise anyone when I say that shopping malls are currently focused on how to become more attractive to visitors. With the trouble in retail, adding entertainment is often seen as the holy grail in solving dwindling footfall. Many shopping malls are adding attractions and the term 'retailtainment' is in common use.
But they are not changing. They are repeating what they did 40 years ago, without learning any lessons.
Entertainment in shopping malls
There is a reason why shopping mall owners are interested in adding entertainment. They perceive it as a key tool in increasing footfall, mainly based on the following two principles:
Compared to malls, attractions tend to have a larger catchment area. This means that people may come from further afield to visit.
Attractions can bring in new visitors, in addition to the traditional mall customers. Not only does this increase footfall, but it might also attract new retailers to cater to the new audience. For example, sports shops around an indoor ski attraction, or toy shops around a LEGO Discovery Center.
Is this new? Absolutely not. This already happened decades ago, when multiplex cinemasand bowling areas were a standard addition to larger malls. The only difference now is that there is more choice when it comes to the types of entertainment on offer. There are new attractions such as LEGO Discovery Centers or KidZania venues.
Increasing footfall
Over the last few decades, much research has been collected to show that adding these anchor attractions will increase footfall. In a recent article for MAPIC, Leisure Development Partners indicated that adding a major attraction to a mall will create an incremental increase in footfall to the mall of 2 to 4%.
However, it also says the incremental spend on retail is only 2 to 16% on the attraction turnover. Which, on the total 'retail sales per sqm', is very limited. The interesting thing is that when it comes to 'retail sales per sqm', mall owners can learn a lot from the location-based entertainment industry.
Shopping malls can learn lessons from theme parks
Around 20 years ago, theme park revenue was mainly based on entrance ticket sales. Spending within the park was limited and owners weren't paying it much attention. But the parks could not keep raising their ticket prices endlessly –  they had to start thinking of other business models. Namely, how to get more out of the pockets of visitors, once they had bought a ticket.
After much trial and error, as well as research into the guests' perspective, the higher end of the theme park industry was able to change to a new business model. This is one where the ticket price is their basic revenue, but the real money is made on 'in-park spending'.
Park operators discovered that the longer guests stayed in a theme park, the more likely they were to spend more. A great example of this is Efteling. It built a high-end fountain show to serve as a spectacular finish to each day.
Now, instead of leaving the park at 5 pm and eating next door in McDonald's, families stay to see the show and have their dinner in the park. After the introduction of the show, their F&B sales rose by more than 10%.
Building an emotional connection
Furthermore, theme park operators and investors figured out that by building up a higher emotional connection between the guests and the park, people will spend more.
They started to include extra points of sales at strategic locations. They chose places where guests' emotional adrenaline tends to get to a very high level – they started to add souvenir shops at the end of their main attractions.
A great attraction is built up in a way that the emotional excitement is at a maximum just before the attraction ends. This means that the guest is leaving really excited about what they just experienced. And now, at that moment, guests end up in a dedicated shop where they can transfer this excitement into buying souvenirs related to the attraction.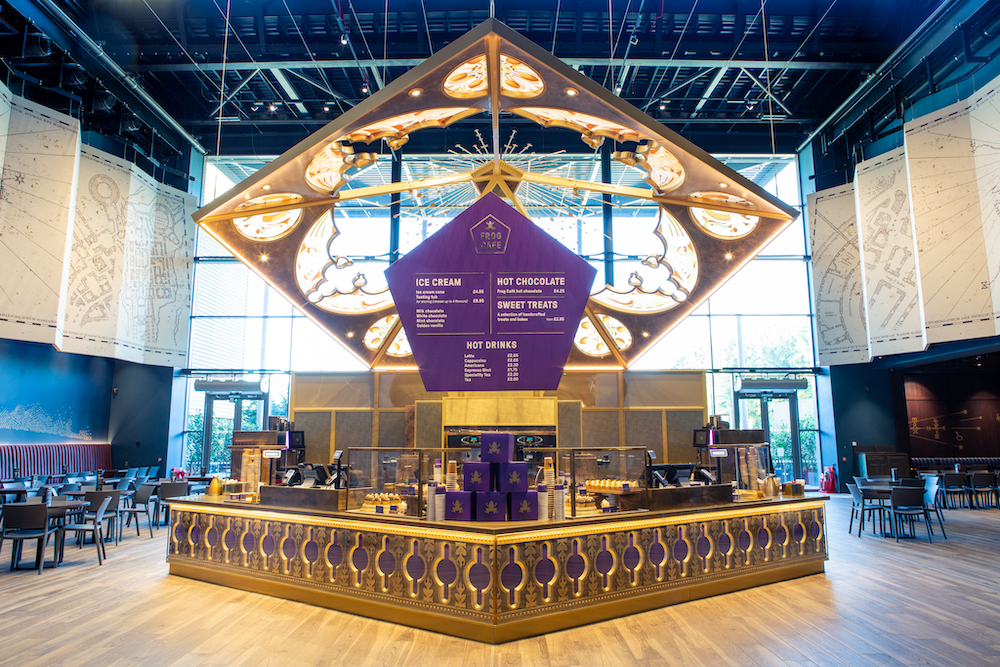 Inspired by this success, park operators started to wonder how to trigger the emotions of guests at other moments as well, and how to generate extra sales out of this. They started to increase their live entertainment and improve their theming in the areas in-between the attractions. Parks also changed restaurants into fully themed environments, completed by adding extra themed points of sales.
All this was done to achieve the goal of triggering the guest's emotional excitement more and more, in order to increase secondary spending inside the park.
The Wizarding World of Harry Potter
In 2010 the ultimate example of this opened at Universal's Island of Adventure in Orlando: The Wizarding World of Harry Potter. It was the first time that guests were blown away more by the realistic environment outside the attraction, than by the actual attraction itself.
The high-quality reproduction of Hogsmeade village included live actors and small shows. Original Harry Potter merchandise and unique food & beverage options were also highly appreciated by the guests.
As in an industry professional, I was also blown away. But my emotional setting was a bit different to that of the average guest. I was deeply impressed by how Universal had managed to create a shopping street that didn't feel like a shopping area, and yet where guests were spending money like water.
With the combination of perfect theming, original offerings and well-trained actors taking care of the sales, they boosted guests' emotions to an absolute maximum. Almost everyone was buying expensive Harry Potter souvenirs. In 2010 the attendance of the park grew by 20%, and revenue jumped up over 40%! It was setting a new standard.
The success factor that can't be quantified
Now, look at this from an investor's point of view. Every investor can understand that at a certain moment you need to add a new ride to a theme park to increase attendance. But spending loads of money on theming the area outside the rides, often on small details, will make every investor feeling nervous. However, this is exactly what made The Wizarding World of Harry Potter successful.
The success is not about the very expensive attraction in the box. It is about the exciting feeling every guest gets when entering the highly themed area. Parks can take you out of the ordinary world and on an emotional journey.
How do you describe this success factor? It has nothing to do with any terms common in the real estate world.  But to drive 'retail sales per sqm' you need it. It is, in essence, the basis of success in all markets where you need to get people out of their homes and off their cell phone. And the theme park world understands it. That success factor can be captured in one word: soul.
By touching the soul of your guests, footfall and spending patterns will increase. You can only connect with your guests when your project has a clear, well worked out and understandable vision about what the soul of your place should be. And this soul must connect with the soul of your target group.
The real estate world
With more than 25 years of experience in the industry, I have had many meetings, brainstorming sessions and consultancy jobs with real estate owners, shopping mall operators and/or property investors. In all those meetings, the discussions immediately turned back towards retail sales per square meter, costs per square meter, demographics and other quantifiable numbers.
Almost no one in that world wants to speak about emotion or soul. They continue to plug in their numbers, try to minimalize the investment as much as possible. And in the end, they become the same as every other mall. Thinking of creating places with a recognisable message and soul remains difficult in the real estate world.
The funny thing is, the same decision-makers in the world of shopping malls recognize the success of location-based entertainment. But they still transfer this back towards entertainment in a box. As they have done before, with numbers they can grasp. Exactly what they did 40 years ago by adding multiplex cinemas and bowling areas.
Wake up, the world has changed. These days people only will come and spend when they have an emotional connection. Retailers and shopping malls need to design, build and operate a place with a soul, one that connects with their visitors.